Painting Competition to Promote Water & Energy Conservation
Chennai, October 15, 2018: Grundfos India, a global manufacturer of energy-efficient pumps, is organizing a painting competition to promote water and energy conservation. The competition will be held on Grundfos' social media platforms, Ek Boondh Pani (EBP) and i Save Energy (ISE) on Facebook & Twitter from October 15 – 21, 2018. Through this competition, Grundfos India hopes to increase the awareness for water and energy conservation amongst the younger generation and to also get them to think about intelligent solutions to help save these critical resources.
To participate in the contest the participants need upload them on the EBP and ISE pages. A panel of Grundfos India judges will choose the top three paintings and announce the winners on Children's Day –14th November 2018. The selected paintings will win their owners an Echo Dot and will also be feature on the EBP and ISE pages.
Commenting on this campaign, Mahathi Parashuram, Regional Head – Public Affairs, Communications & Relations, Asia Pacific Region, Grundfos said, "Children of today are the ones who will inherit this world tomorrow. They need to be equipped to manage key resources like water and energy in a sustainable manner. What better way to get them thinking on these lines, than through a painting contest."
Children of ages 7 to 15 can participate in this contest. To know more about the contest, visit the EBP & ISE pages:
Ek Boondh Pani:
Facebook: https://www.facebook.com/EkBoondhPani/;
Twitter: https://twitter.com/EkBoondhPani
i Save Energy:
Facebook: https://www.facebook.com/ISaveEnergy/
Twitter: https://twitter.com/iSaveEnergyIND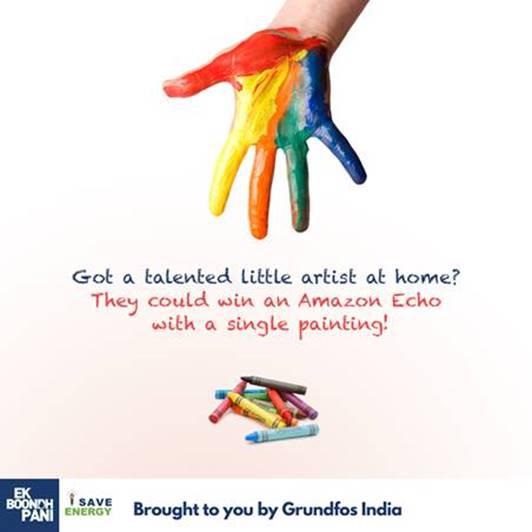 About Ek Boondh Pani:
Ek Boondh Pani is a forum hosted by Grundfos India on the social media sites, Facebook and Twitter. The name translates to 'a drop of water' in Hindi – signifying the importance of each drop of water. Through this page, members share water conservation tips and facts to encourage this awareness to be driven home.
About i Save Energy:
i Save Energy is a forum hosted by Grundfos India on Facebook and Twitter. The forum aims to encourage people to spread the word on adopting energy-efficient approaches and investing in energy efficient solutions across the nation.
About Grundfos India
Grundfos Pumps India Pvt. Ltd. (Grundfos India) a wholly owned subsidiary of Grundfos Holdings was established on March 13, 1998. Grundfos India is responsible for sales of Grundfos products in India, Bangladesh, Bhutan, Maldives and Nepal. Currently, Grundfos India has more than 350 employees and works with 200 distributors and dealers with 14 offices across India. Grundfos India provides energy efficient pumps and smart pumping solutions for various applications – heating and hot water service systems, cooling and air-conditioning systems, industrial applications, pressure boosting and liquid transfer, groundwater supply, domestic water supply, sewage and wastewater, dosing, chlorination systems, disinfection systems and pumps running on renewable energy. For more information, visit: http://www.grundfos.in/.