Won't tolerate threats to Governor: Raj Bhavan
Threats to constitutional authorities like the Governor will not be tolerated, the Raj Bhavan said on Friday, criticizing Tamil magazine 'Nakkheeran' Editor R.R. Gopal for allegedly slandering the Governor.
"In a democracy, there can be a healthy exchange of ideas. But no threats direct or indirect on a constitutional authority such as Governor will be tolerated," a Raj Bhavan statement said.
"The Raj Bhavan can and will never be cowed down by actions aimed at hurting the dignity of the High Office."
The statement described as "absolute falsehood" links attributed between the Governor and a college Assistant Professor of Aruppukottai, Nirmala Devi, who was arrested in a "sex-for-marks" scandal.
She is alleged to have lured girl students to provide sexual favors to senior officials of Madurai Kamaraj University.
"The statement was given by her before the police will itself bear out the truth," the Raj Bhavan said.
On October 9, 'Nakkheeran Gopal' was arrested for publishing articles linking Tamil Nadu Governor Banwarilal Purohit and R. Rajagopal, Additional Chief Secretary to Governor, to the alleged scandal.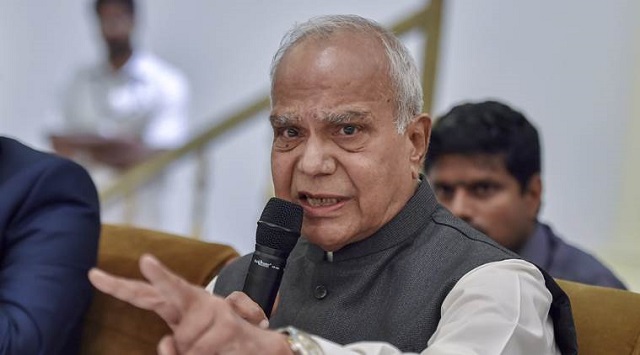 The police complaint was lodged by a Raj Bhavan official.
Gopal was slapped with Section 124 of the Indian Penal Code, which refers to the assault on President or Governor to restrain them from exercising their lawful power.
The court released Gopal saying the charge doesn't warrant Section 124.
"Every issue has its limits and Raj Bhavan was maintaining a dignified silence for more than six months since the law was taking its course and the matter was under investigation and subsequently placed before the court for trial," Raj Bhavan said.
The statement said it was shocking to see a resurfacing of yellow journalism in 'Nakkheeran' in late September after the charge sheets had been filed and all investigation completed.
"Those who claim to be engaged in investigative journalism have not even bothered to verify the actual statement given by Nirmala Devi before the police," the statement said.
The 'Nakkheeran' article was an example of "casualness and cowardice" and in breach of journalistic ethics, it said.
According to Raj Bhavan, Nirmala Devi never came to Raj Bhavan in the last one year and she does not have any acquaintance with Purohit or Rajagopal or any of the officers working there.
Raj Bhavan also denied that Purohit stayed in the Madurai Kamaraj University guest house in Madurai when he was invited there for the Mother Theresa University Convocation.
It said the Governor's Secretary did not accompany him on any visit to Madurai Kamaraj University.
"It can only be a deep sense of hatred towards goodness and truth that could have driven any journalist to have written the articles in the manner they appeared in 'Nakkheeran'," Raj Bhavan said.
"It is a matter of regret that such utter falsehood and this kind of yellow journalism is being supported by respectable people who, it appears, are not aware of the facts."