96 Movie Review | Vijay Sethupathi, Trisha
Film: "96";
Language: Tamil;
Director: C. Prem Kumar;
Cast: Vijay Sethupathi, Trisha, Janagaraj;
Movie Review:
In debut director Prem Kumar's "96", Vijay Sethupathi plays a travel photographer called Ram and his character is beautifully established in the first five minutes through the song "Life of Ram", shot across various parts of India. Throughout the song, we see Ram capturing wonderful moments through his camera and each click is a memory that he holds very close to his heart. A scene later, he tells his students to capture a memory and not a photograph.
The song also establishes the fact that Ram's life is lonely and he misses companionship. A few minutes later as he drives past Thanjore, he makes a pit stop at his school and nostalgia starts flooding as he tries reconnecting with his old batchmates. Ram and his close friends decide to have a reunion – this scene beautifully unfolds on the screen through a series of WhatsApp chats – and it brings together the entire batch of 1996 of All Saints Matriculation School, including Jaanu aka Janaki (Trisha), who was Ram's teenage sweetheart in school.
We're introduced to Trisha, who plays the adult version of Jaanu, a good 30 minutes into the film and until then we only see her 15-year-old version. When Ram and Jaanu meet for the first time in 22 years at the reunion, they don't really exchange words but we sense their desperation to express.
The movie achieves what most love stories miss – the art of conveying love without actually saying it on screen. Never do we see Ram and Jaanu express in words how much they love each other, yet we're fully aware of how they feel for each other. In fact, the beauty of the film lies in the unspoken words – which get elevated by Govind Vasantha's lilting music, especially the violins and flutes to fill up the blanks. There's a lovely scene where young Ram whispers something into Jaanu's best friend's ear and she's taken aback by what she just heard. We're never told what he told her but we get what he could've told her as the scene features Jaanu in the background.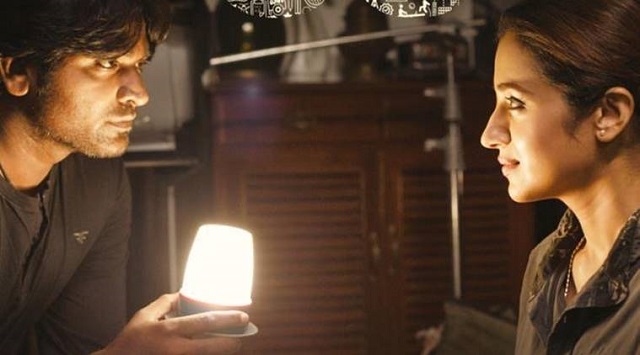 Both Ram and Jaanu are the kind of characters we don't get to see often in Tamil cinema. In a scene, Ram hesitates to invite Jaanu home because it's quite late in the night and he feels it's inappropriate. And when they actually go to his house, we get one of the most beautiful moments of the film. In another scene, we see the younger version of Ram standing outside a woman's college and he asks for a favor from one of the college students. Before leaving, he remembers to ask her name and thanks her. It speaks a lot about Ram's character at a time when men in Tamil cinema confuse stalking for love and don't respect women. Ram is the kind of man who takes no for an answer and it doesn't hurt his ego.
Vijay Sethupathi and Trisha, in what can be considered a very unlikely pairing, are a treat to watch on screen. In a refreshing departure from her recent slate of slightly disappointing roles, Trisha redeems herself strongly with a role of a lifetime and it couldn't have come at a more appropriate time. As Jaanu, she's in full control of her character and she makes us fall in love with her. Vijay Sethupathi continues to prove why he's easily one of the best actors of our times. In his most natural and effortless self, he delivers one of the most memorable characters of his career.
For a story that unfolds through the course of a single night, "96" feels long but it's for its own good. It takes its own time to set things up, but the payoff is worth the time spent on building the simple premise of two people who meet after 22 years and figure out if they still feel for each other the same way they felt as classmates. As we get to the climax and we get one of the most heartwarming moments of the film, it makes "96" a highly satisfying story of unfulfilled romance.