'Umagine Chennai' upcoming Global Expo Awareness Programme at Sathyabama Institute of Science and Technology
Sathyabama Institute of Science and Technology hosted Umagine Catalyst, a road show for the upcoming global expo 'Umagine Chennai' programme of Ministry of Information Technology and Digital Services, Government of Tamil Nadu.
Honorable Minister for Information Technology and Digital Services Thiru.T. Mano Thangaraj, Chief Guest of the event brief about the progress of Information technology in Tamil Nadu.
He expressed his belief that Umagine-Chennai 2023 initiative will position Tamil Nadu in the global market as the tech and IT destination for enterprises and to bring all the stakeholders together to ensure the progress in adoption of information technology in emerging sectors.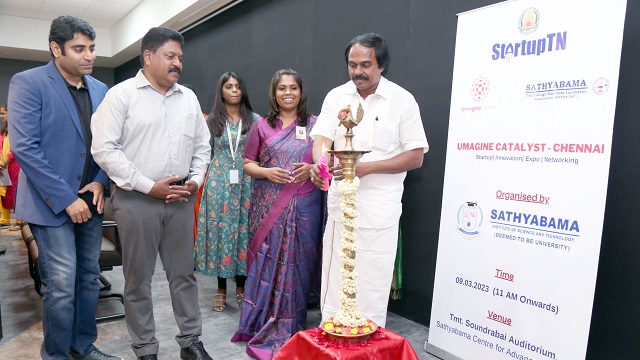 Speaking on stage, Minister Mano Thangaraj inaugurated the discussion program with entrepreneurs and students:-
He said that 'Umagine Chennai'  Entrepreneurship Conference will be held from 23rd to 25th March and students should attend and register for it.
Women are safe only in Chennai in India. He said that Tamil Nadu has been lagging behind in technological development for the last 10 years and the Tamil Nadu government is taking various measures to restore it.
Last year the income of 1 lakh 76 thousand crores has been generated in the IT sector and the students should find new innovations to enter the IT sector in agriculture and benefit the farmers.
He said that for Tamil Nadu to progress in technological development, MOUs have been signed with countries like UK, France and Israel.He was proud that Tamil Nadu have educational facilities, road facilities, electricity facilities, technical facilities, etc. in any other state in India.
India needs more industrial development. He also said that for the development of industry in Tamil Nadu, a seminar meeting will be held to bring together all the partners of IT companies abroad.
Dr.Mariazeena Johnson, Chancellor Sathyabama Institute of Science and Technology briefed about the focus of Sathyabama Technology Business Incubator in promoting startups and its recognition from Startup India with Rs.5 crore under Startup India Seed Fund scheme to support the eligible startups in scaling their innovations.
Thiru. Sivarajah Ramanathan, Mission Director & CEO, Tamil Nadu Startup & Innovation Mission explained the initiatives taken by Startup TN to promote the Startups in emerging technologies and allied sectors.
Special Guest Mr.Arjun Reddy emphasized that more startups should come out with best ideas and funding support is available in all the sectors. 'Umagine Chennai' with the theme "Leave the future behind" is scheduled during March 23-25 @ Nandambakkam Trade Centre, Chennai.