Ajman Media City Free Zone investment forum in Chennai brings more than 100 investors together to showcase the business services
The first India forum concludes with a strong interest in free zone services
Ajman Media City Free Zone senior delegation in India as a part of a global trade mission
The brand new investment hub of UAE offers cost-effective business licensing for Indian entrepreneurs and investors
India Road Shows December 2018: Chennai. Mumbai. New Delhi.
A senior-level delegation of Ajman Media City Free Zone led by His Excellency Mahmood AlHashmi, CEO is in India and debuted with an investment forum in Chennai today.
Ajman Media City Free Zone is set to boost investments in UAE by creating strategic partnerships in India which is one of the strongest trade partners for UAE for a long time.
His Excellency Mahmood AlHashmi, CEO of Ajman Free Media City said: "The partnership is part of our global trade relation road trips where we showcased our services and solutions of investment in UAE. Establishing a business set up in UAE, one of the fastest growing markets, has become much easier and cost effective with Ajman Media City Free Zone (AMCFZ), which is a world class free zone hub for small and medium businesses and entrepreneurs.
Leading Chennai based business leader Mr. Jawahar Vadivelu, Chairman of Cameo Corporate Services Limited and President of International Chamber of Commerce – India (ICC India) since March 2018 welcomed the delegation and opened the Chennai forum earlier today. The event was also supported by India-ASEAN-Sri Lanka Chamber of Commerce & Industry.
Rishi Somaiya, Commercial Advisor of Ajman Media City Free Zone, added: "The three-city roadshow will give the Indian business community the opportunity to review a choice of investor-friendly options of AMCFZ as well as meet senior officials of the free zone, who will assist them with these business solutions."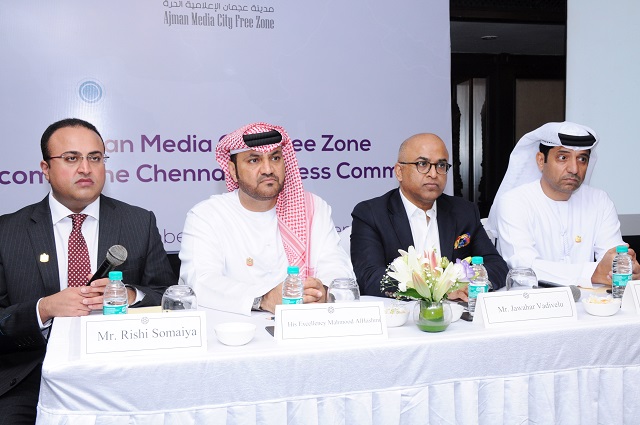 Five Reasons UAE is the most attractive destination for entrepreneurs
The UAE is blessed with a strategic location between the east and west, which makes it accessible to major emerging economies, linking shipping routes and act as a hub between the various regions in the Middle East, Asia, Europe, and Africa.
UAE is a free economy meaning that anyone residing anywhere in the UAE can enjoy a virtually tax-free life. Due to the extremely people friendly taxation policy of the UAE, the Wall Street Journal gave the country a 99.9 index rating. This rating means that UAE is a very favorable place for when it comes to the degree of economic freedom, the ratio of tax level to tax payments, ease of doing business in UAE, etc. Also, UAE was listed amongst the best places in the world for labor and business alike.
Ajman Media Cty Free Zone lowers the cost of doing business in the UAE. AMCFZ is developed for making the emirate of Ajman an international economic center for investors and businesses, in line with the "Ajman 2021" vision.
In a landmark decision, AMCFZ has abolished visa deposit mandate offers a big incentive to new business owners. The new rules will be particularly helpful to small and medium-sized companies which will experience improved cash flow to inject back into their businesses.
With key policies, AMCFZ has become successful in lowering the cost of doing business in the UAE and making it a very attractive global center for business owners.
To further emphasize the importance of India, he added: "Ajman Media City Free Zone already has a long-term alliance with two of the largest media conglomerates, Times of India and Hindustan Times. As part of the collaboration, AMCFZ will identify value propositions, projects, and events that can be localized for the UAE market and be brought to Ajman."